PLBus Automatic Meter Reading (AMR) System and Solutions
As shown below, PLBus AMR system consists of utility data server platform, data concentrator installed in fields, and meters. The concentator links with server platform through telephone modem, ethernet or 3G/4G wireless network. On the other hand, it communicates with meters through local PLBus power line network. So, no new wiring is required and it is easy to implement and maintain.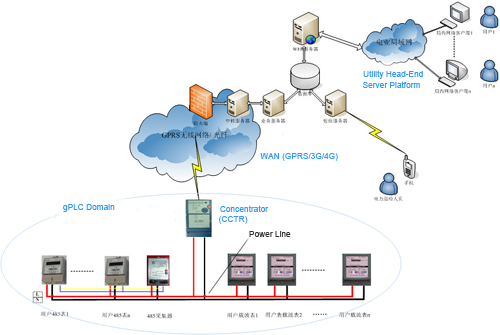 The concentor serves as the master node in the local PLBus network, meters are sub-nodes. The master node is responsible for managing the network, including sub-node registration, routine management.
Sub-node may take one of two forms. One form is so called PLC meter which has built-in PLBus module to communicate with the master node. The other form is so called data collector which is an external device to meter. The data collector connects with meter through meter's data interface (e.g., RS485) , on the other hand, communicates with the master node through power line.
LME provides complete solution to develop a PLBus AMR system, including
Data concentrator
PLBus master-node module (for embedding into concentrator)
PLBus module for meters
PLBus data collector with RS485 data interface.